Salix lasiolepis
Arroyo Willow
Flowers: Yellow catkins, upright from branch, with numerous flowers, appearing before new leaves. Up to 7 cm long.
Blooms: January - February
Leaves: Narrow, green to green-gray, round tip and hairless; smooth edged or with very fine teeth. 4 - 12 cm long.
Fruit/Seeds: Small, cottony, wind-dispersed from caitkin.
Location: Riparian areas and wetlands, seep areas, or areas with high groundwater.
Status: Native - Common.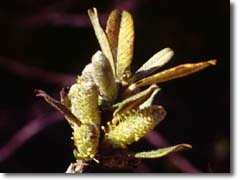 Salix lasiolepis
600x450 JPEG - 24K
The male catkins in February. Female catkins are more greenish and have a spiny appearance.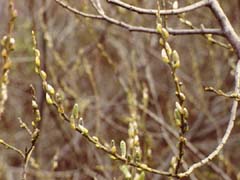 600x450 JPEG - 36K
Further description & Comment: Various forms, from 6 ft shrub to 30 ft tree. Deciduous. Grows in dense stands.
The Arroyo Willow can be differentiated from Salix sitchensis (Sitka Willow) most easily by its longer, smoother, not hairy, lighter colored leaves, wider range and larger size.