Erysimum franciscanum:
San Francisco Wallflower
Flowers: Yellow , 4 petals in maltese cross, 1/2 inch across; in dome like clusters at tops of stems.
Blooms: March - June
Leaves: Narrow and toothed.
Fruit/Seeds: Forming in pods on stems below flower cluster, extending from stem at roughly 45 degree angles.
Location: Along trails at higher elevations, rocky or sandy areas - San Pedro Mountain Road, North Peak Access Road.
Status: Native - Rare; Category 4: Plants of limited distribution - - a watch list.
Further description & Comment: 1 to 2 feet tall. Along with Arabis blepharophylla - (Rose Rock Cress), Lupine and Sedum, it forms the main food source chain for the life cycle of the endangered San Bruno Elfin Butterfly.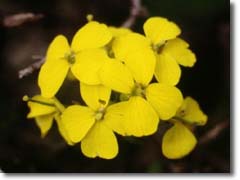 Erysimum franciscum
500x375 JPEG - 28K
Note the distinctive cluster of Maltese Cross shaped flowers that is indicative of this family.