Marah fabaceus:
California Manroot
(Wild Cucumber)
Flowers: White, 5 or 6 petals, tiny; male flowers are flat and in clusters along stems, female flowers single.
Blooms: March - June.
Leaves: Glossy green, 5 - 7 slight, pointed lobes with large "U" base, often turned under slightly at edges.
Fruit/Seeds: Very spiny green fruit capsules, round, 2 - 3 inches in diameter with four large seeds inside. Edibility under debate. May - October.
Location: All trails all around. Seems to prefer warmer locations.
Status: Native - Common.
Further description & Comment: 15 - 20 ft long; mounding sprawling vine with coiling tendrils, usually winding over and through other vegetation.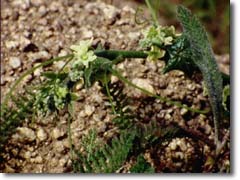 Marah fabaceus
600x450 JPEG - 60K
Note the flower clustering and the tendrils. The feathery leaves in the image are young Common Yarrow plants sprouting. This plant was found crawling over a low dirt berm next to Pedro Mtn Road in McNee Ranch State Park.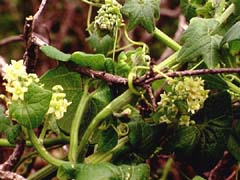 Image to the left shows the male clusters of flowers, and the tendrils in action.
The stem is slightly hairy and scaly, as can be seen in lower left.
Images below show the developing fruit from the single female flower that grows next to each leaf stem. The mature fruit is about the size of a baseball, and the spines are so sharp you cannot hold it.
As the fruit dries, it splits open to drop out the four large seeds. The vine then dies back, and by late fall, no sign of it can be found.