Arctostaphylos montaraensis:
Montara Manzanita
Flowers: White, waxy dangling urns, small; in dense clusters at ends of branches.
Blooms: January - March.
Leaves: Lobed at base; heart-shaped, slightly toothed, leathery, 2 - 4 inches long on short petiole (leaf stem); in tight, upright overlapping bunches at ends of branches.
Fruit/Seeds: Reddish-green "little apples"; in clusters. April - June.
Location: Dry, inland trails above 500 ft, mostly on the Pacifica side.
Status: Native - Rare and restricted in range.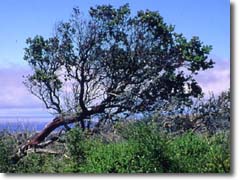 Arctostaphylos montaraensis
This beautiful 20 ' plant grows in San Pedro Valley County Park. on the North side of Montara Mountain, above Pacifica.
Photo by Mike Vasey. 560x420 JPEG - 60K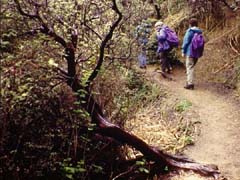 Hikers pass by Montara Manzanita on the Brooks Falls Trail in San Pedro Valley County Park.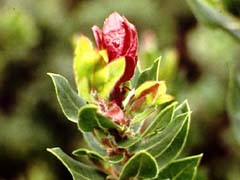 The bright red growing tips of new foliage light up the trails in mid-winter.
Further description & Comment: 4 - 15 ft tall; branches upright and twisted; red bark sheds easily; evergreen. This species is found only on Montara Mountain.
For identification, it has no burl at base (see image above; A. tomentosa: Brittle-Leaf Manzanita has a distinctive burl) and has the distinctive heart-shaped leaves on short stems. The bark of the Madrone tree is more golden.
The image at right shows the little apple-like berries.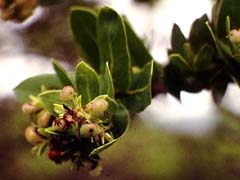 480x360 JPEG - 24K