Wood Mints - How to tell them apart:
S. ajugoides. (Rigid Wood Mint) and S. bullata californica. (California Wood Mint) can be very similar plants, but our local varieties have some distinctions that help to recognize which is which. Once you've seen them together enough (try San Pedro Mtn Road about 1/4 mile beyond the Higgins Road gate or the half way point of Gray Whale Cove Trail) you get the general feel for which is which. If you have trouble, the real foolproof way to tell them apart is below.
The image here shows the flowers of S. ajugoides. on the left and S. bullata californica. on the right: 600x450 JPEG - 48K.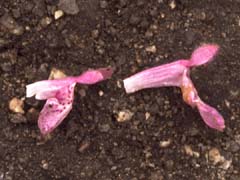 Flowers: S. ajugoides. tends to have smaller flowers, primarily white with a heavy pink vein and dot pattern, and the lower lip bent backwards towards the calyx. S. bullata. flowers are larger, mainly pink with a darker pink pattern, and the lower lip usually protrudes forward.
Leaves: S. bullata. leaves are thick, and almost spongy to the feel, coarsely grained, fuzzy to the touch and with distinct teeth on the margin. S. ajugoides. leaves then to be smoother, thinner, not so heavily grained and with more of a scallop pattern on the margin.
Range: S. bullata. has a very wide range over the mountain, and is the most common of the two. S. ajugoides. has a much more limited distribution. If you're seeing a lot of it everywhere, it's bullata.
Size: S. bullata. can get quite large - specimens in creek beds can get to be over 5 ft tall. S. ajugoides. rarely grows larger than 2 feet tall. It also has smaller leaves and thinner stems.
Caveats and How to be Really Sure: The charcateristics described above are general and seem to be particluar to Montara Mountain. I've been to other areas where S. ajugoides. was the predominant species and few if any of the above markings and size descriptors applied. So to be really sure, you need to pluck one of the flowers free from the calyx - as in the image above, you'll notice that S. ajugoides. (on the left) has a small sac on the lower part of the floral tube behind the lower lip, while S. bullata. does not.