Dicentra formosa:
Bleeding Heart
Flowers: Pink-purple, heart-shaped; 3/4 to 1 inch long, in drooping clusters on 1 to 2 foot stems.
Blooms: March - May
Leaves: Blue-green, fern-like and lacy, 1 foot long; from base of plant forming a bush on larger specimens.
Fruit/Seeds: ??
Location: Damp, shady trails; North Peak Access Road.
Status: Native - UnCommon.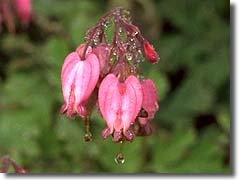 Dicentra formosa
600x450 JPG - 28K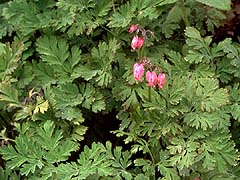 Further description & Comment: Two feet tall, bush-like at times. Foliage keeps growing after flowers disappear, so watch for the distinctive leaves well into summer.
The root is a long, succulent rhizome that stays close to the surface, and is collected (along with the late season leaves) to make a tincture or tonic useful in strengthening and healing, and as a general narcotic-analgesic for pain and central nervous system disorders. It is used as general tonic for recovery and relaxation from nervousness and the shakes from trauma. It can also give a false positive for opiate use in urine tests. Poppy family, remember?