Flowers: 5 petals, pink/white to white, no dots on petals; bright yellow "throat"; on long pedicel, 1/4 in. across
Blooms: April - June.
Leaves: Opposite, with 5 lobes, forming a star-like ring on lower stem; higher up the stem they bunch to form a fingered-globe below the flower.
Fruit/Seeds: ??
Location: At higher elevations in grassy, rocky areas
Status: Native - Uncommon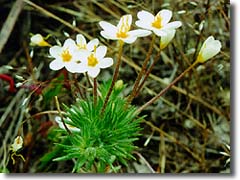 Linanthus bicolor
600x450 JPEG - 48K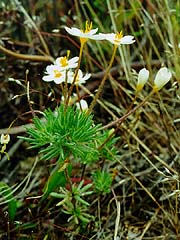 Further description & Comment: Less than 10 cm tall. Somewhat similar in form and structure to the rare Linanthus croceus ; but shorter and with a smaller flower and different coloring.
This pure white colony is up near the peaks, just off the main service road.