Claytonia perfoliata:
Miner's Lettuce
Portulacaceae (Purslane Family)
Flowers: White to Pale Pink, tiny, 5 petals; in small clusters above saucer like leaves.
Blooms: March - May.
Leaves: Narrow and fleshy at base of stem, saucer shaped, shiny and fleshy at top below blooms.
Fruit/Seeds: ??
Location: Shady, damper trails; Brooks Falls, Bluffs above Devil's Slide, above Green Valley along San Pedro Mtn Road.
Status: Native - Common.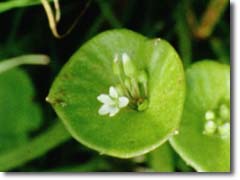 Claytonia perfoliata
Delicate white blooms above a fleshy (and edible!) saucer-shaped leaf..
Further description & Comment: 4 - 10 inches tall. Edible and quite tasty. Apparently, miners took a fancy to it. It is known to develop thick, matted colonies across disturbed areas the first Spring after earth is dug up, often getting established before many of the alien invasives.
The above shot shows the delicate white blooms above the fleshy (and edible!) saucer shaped leaves.
The image to the left shows C. perfoliata in its usual habitat, mixed in with other low growing herbaceous plants in the understory of shadier areas.