Viola adunca
Western Dog Violet
Flowers: Light blue to purple, 5 petals; on top of long stems.
Blooms: March - June.
Leaves: Rounded to heart-shaped, on long erect stems, lancelike bracts below the petiole base.
Fruit/Seeds: Small, hard and dark fruits; splitting into 3 seeds when ripe.
Location: Grasy trails, moist openings in woods, throughout the lower elevations of the mountain.
Status: Native - Common.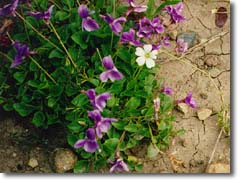 Viola adunca
600x450 JPEG - 84K
A healthy batch of V. adunca growing along side the trail. The white flower is Cerastium arvense - (Field Chickweed). Photo by Bill and Barbara VanderWerf.
Further description & Comment: 2 - 4 inches tall, growing in low mounds.
Members of Viola. are edible and quite nutritous: remarkedly high in vitamin C and beta-carotene. A tincture or tea from the whole plant, fresh or dried, may be used as a sedative and laxative, and helps with eczema in both the young and aged.