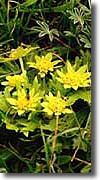 Members of this familar family have alternate leaves, widening at the base into a sheath that clasps the stem. The stems are often furrowed. Some part of the plant will usually have a strong aroma of some sort - these aromas (and flavors, in some instances) of carrot, parsley, coriander, parsnip, celery, fennel, dill and anise are due primarily to various oils produced by the plant.
The usually compound flowers are almost always concentrated in flat-topped umbels; the rays of the primary umbel giving rise to a secondary unbel with the flower-bearing pedicels. The flowers have 5 petals, usually uneven, and 5 stamens. The seeds and fruit form below where the petals and stamen originate. Seeds are in tight pairs, often conspicuously ribbed, and sometime "winged".
Some members of this family are poisonous, some are irratating to the skin; handle unfamilar plants with caution.