Epilobium cilatum
ssp. watsonii
Watson's Willowherb
Onagraceae
(Evening Primrose Family)
Flowers: White to pink to red to purple, 4 bi-lobed petals, notched less than one-third the length of the petal, 5 to 10 mm long, atop a thin (non-bulbous) ovary, in upright inflorescence.
Blooms: May - September.
Leaves: Alternate and opposite pairs, lance-like and lightly toothed, conspicuous veins.
Fruit/Seeds: Linear seed pods along flowering stems containing multiple seeds with silky hair tufts.
Location: Permanent or seasonal wet areas; creeks, seeps, ponds, drainages.
Status: Native - Common.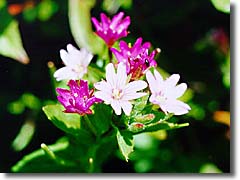 Epilobium cilatum
ssp. watsonii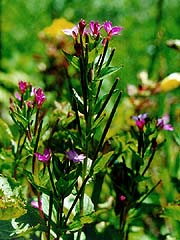 Further description & Comment: Up to 100 cm (40 inches) or more, growing in clumps in wet areas, often right in the water. The plants are connected by common stems and roots, and are often some of the first natives to restablish in disturbed areas.
E. densiflorum. is similar, but has deeper notches in the petals (at least one-third the length) and does not have the tufted hairs on the seeds. There are various species of Willowherb in the area, some that pop up in people's yard. Although my sources show none of these as being alien and/or invasive, there is some contention that some of them are.