Heliotropium curassavicum:
Seaside (Salt) Heliotrope
Flowers: White to bluish, tiny flowers in long curved sprays. Centers fading to Green or Purple.
Blooms: March - May
Leaves: Blue-Green, fleshy, long and curving back.
Fruit/Seeds: ??
Location: "Drying flood plains"
Status: Native - Not common.
Further description & Comment: Low, matlike - fleshy stems are smooth and covered with a bluish wax.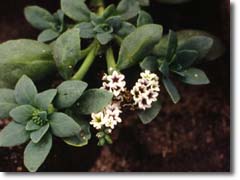 Heliotropium curassavicum
Note the small clusters of flowers and the rosette-like sets of leaves at the end of stems, compared with the larger, more oval leaves back toward the base. 560x420 JPEG - 40K