Chrysolepis chrysophylla minor:
Golden Chinquapin
Flowers: Creamy white, small; in showy spikes.
Blooms: Late Summer
Leaves: Dark green above, powdery mustard yellow/gold below, long and leathery, 3 - 6 inches long, curving under at tip.
Fruit/Seeds: Nuts clustered in very spiny green case, ripening to brown, burr like cases. Fall-Winter.
Location: Dry trails at higher elevations, more so on the Pacifica side - Montara Mountain trail, Brooks fall overlook trail.
Status: Native - Common.
Further description & Comment: 15 - 20 ft tall at maturity, shorter in wind swept areas, growing in groves. Evergreen.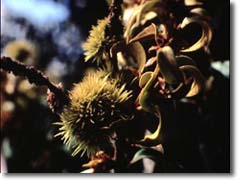 Chrysolepis chrysophylla minor
Note the burr like seed - often you will notice these along the trail before you come across the plant. The reflected light from the golden underside of the leaves can make walking through a Chinquapin grove a magical experience.
Photo by Mike Vasey. 640x480 JPEG - 36K