Ribes sanguineum
var. glutinosum:
Flowering Currant
Grossulariaceae (Gooseberry Family)
Flowers: Pink, 5 petaled, funnel and star shaped; in hanging cascades at ends of branches.
Blooms: February - April.
Leaves: Maple like in shape, soft, veined, with edges curving under.
Fruit/Seeds: Red berries ripening to dark blue; in hanging clusters, with numerous tan seeds inside. Jul-Aug.
Location: Moist slopes, creek banks.
Status: Native - Common.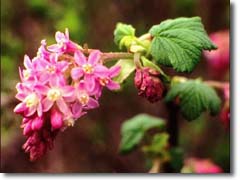 Ribes sanguineum var glutinosum
600x450 JPEG - 36K
A closeup of the flower raceme. Note the shape and texture of the leaves - maple-like, but very soft.

Further description & Comment: 3 - 6 ft tall, upright branches with red new growth; deciduous.
Another closeup of the flower raceme, showing the star and funnel shapes of the flowers.
600x450 JPEG - 32K