Phacelia californica :
California Coast Phacelia
Hydrophyllaceae (Waterleaf Family)
Flowers: Purple-Blue, tiny; in multiple hairy, caterpillar-like coils on top of stem that uncoil as blooms develop.
Blooms: April - June.
Leaves: Three leaflets, with large one at center, dark green to silvery-gray, crinkled and fuzzy.
Fruit/Seeds: ??
Location: Nearly all trails, open areas and rocky places.
Status: Native - Common.
Further description & Comment: 1 - 3 ft tall, many stemmed, growing in clusters.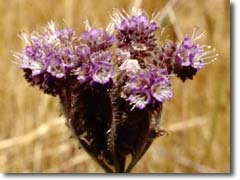 Phacelia californica
600x450 JPEG - 36K
A fully developed flower head. Note the mutiple uncoiled stems and pronounced stamens.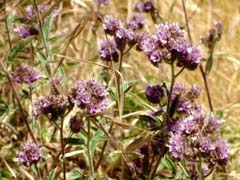 A patch of phacelia grows on a grassy ridge along Gray Whale Cove Trail in McNee Ranch State Park.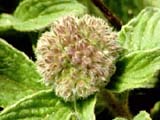 Coast Phacelia blooms start off as a tight green ball of buds.