Smilacine stellata
var. sessilifolia:
Slim Solomon's Seal
(Starry Solomon's Seal)
Flowers: White, six petals, star-shaped on single pedicels at top of stem.
Blooms: February - April.
Leaves: Narrow ("slim"), parallel veined, alternate and semi-clasping along stem, 3 -6" long.
Fruit/Seeds: Red-purple berries.
Location: Damp slopes along trails.
Status: Native - Common.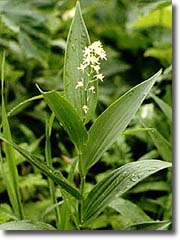 Smilacine stellata var sessilifolia

400x600 JPEG - 44K
Further description & Comment: 1 - 3 feet tall, single stems that grow each year from a ground-level network of creeping rhizomes and succulent rootlets.
The main difference between Smilacine racemosa (Fat/False Solomon's Seal) and Smilacine stellata (Slim/Starry Solomon's Seal) is apparent (I hope) in the pictures: one's fat and the other's slim. There are, of course, substantial differences in the leaves, flowers, and general plant structures of the two species, but in the field it is the chunkiness and slimness that immediately distinguishes the two.

Common Name Note: The "real" Solomon's Seal is an flower in the Lily Family that grows in the Eastern United States and is of the Polygonatum. genus. Hence the name "False" Solomon's Seal for S. racemosa., probably bestowed by some expatriated New England botanist. This convention of "False this-or-that" appears to be common in Liliaceae (False Lily-of-the-Valley, etc.)
The name "Solomon's Seal" refers to a mystic icon, two interlocked triangles in the shape of a six pointed star (often with one triangle white, the other black) representing the union of soul and body. As an amulet, it is said to ward off fever and other diseases. Supposedly, the upright branch shoot leave this mark on the underground rootstock, which is dug up for medicinal uses (see below). Or it could be because of the shape of their flowers (6 - pointed stars) or because of their medicinal qualities in general, or both, but I'm not sure.
The roots of both species, but primarily Smilacine racemosa, are used in herbal medicines as anti-imflammatories and astringents. The fresh chopped root, cooked with honey, makes an excellent cough syrup. Fresh Smilacine root, ground up with a rock, can be an effective and soothing field poultice for stings, bites, burns, and small localized Poison Oak or Stinging Nettle - Stinging Phacelia rashes.
Can't work any worse than Mugwort.