Polygala californica:
California Milkwort
Polygalaceae (Milkwort Family)
Flowers: Rose - pink/purple, pea - like, one-half inch long; in clusters at tips of stems.
Blooms: March - July.
Leaves: One-half to 1.5 inches long, simple and smooth.
Fruit/Seeds: ??
Location: Dry, shady trails and areas. Hazelnut trail in San Pedro Valley County Park.
Status: Native - Common.
Further description & Comment: 3 inches to 1 foot tall, small bush with many stems.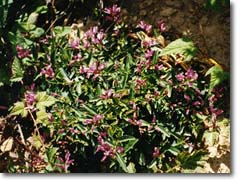 Polygala californica
Photo by Bill and Barbara VanderWerf.