Eriogonum latifolium:
Coast Buckwheat
Polygonaceae (Buckwheat Family)
Flowers: Whitish-Pink, tiny; in ball-like clusters on top of branched, leafless stems.
Blooms: May - October
Leaves: Dark green above, white and wooly below, tough with wavy edges, in dense clumps at base of stems.
Fruit/Seeds: Small, rust-colored seeds that develop from the flower heads.
Location: Rocky slopes along most trails.
Status: Native - Common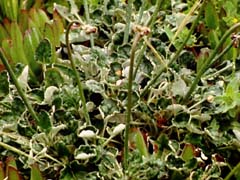 480x360 JPEG - 48K

Eriogonum latifolium
600x450 JPEG - 40K
---
Further description & Comment: 6 inches - 2 feet tall. Stems may be woody at base - leaves not truely basal, but along lower portion of plant at base of flower stems.
Buckwheat tea is good as an anti-inflammatory, and had been used by Native American and Mexican herbalists for centuries. It makes a good eyewash, and Californian Native Americans used it to wash new born babies.
The commercial buckwheat (Fagopyron esculentum) is a distant relative, and I have also heard that the seeds, gathered from the drying flower heads, actually can be milled to create a usable and nutritous flour.