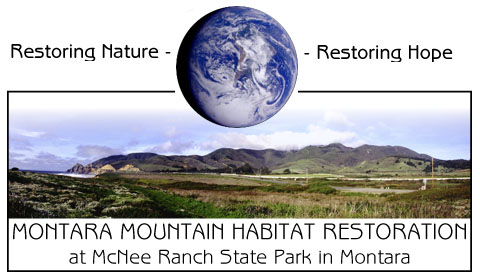 Projects for All Ages and Physical Capabilities:
Habitat Restoration - Trail Work - Native Plant Propagation - Meditative Weeding - Site Cleanup
Tools and Work Gloves Provided - Long Sleeves, long pants and layered clothing recommended
Bring lunch, something to share, and water - Native Plant Habitat and Wildflower Walks after Lunch

Habitat Restoration Dates (Winter/Spring 2000)

| | |
| --- | --- |
| Sunday, Feb. 20: | The Rains are Here! - Winter Planting Begins: The rain pattern has finally established, and we need to get our propagations into the ground soon. This day, we'll concentrate on riparian and wetland plants. |
| Sunday, Mar. 19: | Winter planting work continues ... A few more weeks of rain to come - we'll get our hardier scrub plants into the ground today. |
| Sunday, Apr. 16: | Unofficial Earth Day Volunteer Picnic: No big event - a chance to hang out and appreciate what nature has done with the help of our volunteers. Lunch is on us! |
| Sunday, May 21: | Spring weeding, propagation and wildflower appreciation. |
For Further info and Registration, call or email Chuck Kozak at (650) 728-8239
Participants under 18 must have signed parental/guardian permission


A California State Parks Volunteer Program - Big Thanks to Ranger Chet Bardo!
Organized by the Montara Mountain Habitat Restoration Project.
Special thanks to Go Native Nursery in Moss Beach and Gum Tree Lane Books
Displayed with recycled electrons
Learn more about the native plants of our area on the Montara Mountain Native Plant Pages
Visist our guardian angel web site: montara.com - your source for all things Montara and Coastside
updated 10/12/99 - comments, compliments & complaints: [email protected]
---
About Montara Mountain, McNee Ranch State Park, and the Habitat Restoration Project
McNee Ranch State Park is approximately 20 miles south of San Francisco, on the south coastal slopes of Montara Mountain in central San Mateo County. It has been part of the California State Park system since 1985. Because of it's steep slopes and the protective barrier of Montara Mountain, the area is rich in unique, indigenous coastal mountain plant communities left undisturbed by development, grazing or farming. Montara Mountain is considered an island of rare, undisturbed coastal mountain habitat - a precious resource of native coastal biodiversity.
Some areas, though, suffered severe damage from commercial usage. The former gravel quarry, the site of our restoration project, is a popular picnic area for people using the park, but the cut slopes above the quarry floor and along the road are badly eroded and colonized by alien plant and tree species, such as Pampas Grass, French Broom, Bremuda Sorrel (Oxalis) and Bellardia.
In the past 4 years, we have worked to restore almost 4 acres of land, installed basic erosion control, and have set hundreds of seeds and plantings to help the native species recolonize the slopes. We've started test project areas to learn how to restore this area to its native coastal scrub, meadow grasses and annuals, and this year we will start cleaning up and restoring the riparian area adjacent to the site.
---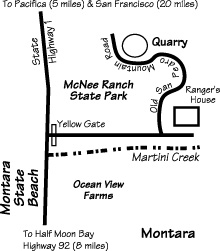 Directions:
From San Francisco: Take Highway 280 south to Highway 1 Exit (Pacifica) - Follow Highway 1 south through Pacifica, and proceed approximately 5 miles south of the Linda Mar traffic light, past Devil's Slide. Watch for the yellow gate on your left as you approach Montara State Beach.
From the Peninsula: Take 101 or 280 to Highway 92 West - Follow 92 West to Half Moon Bay, then North on Highway 1 approximately 8 miles, past Montara and the Chart House Resturant. Watch for the yellow gate on your right after you pass Ocean View Farms' gate.
Parking for working volunteers is available inside the park by the Ranger's Residence.