Montara Mountain Overview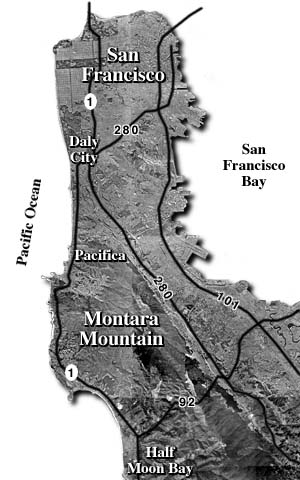 Montara Mountain is located on the San Francisco Peninsula in San Mateo County, approx. 20 miles south of San Francisco.
A northern spur of the Santa Cruz Mountains, Montara Mountain features the only undisturbed Coastal Mountain Habitat found over 100 miles of coastline.
It is an ecological island of natural biological diversity: Its steep slopes have minimized human impact, and it is home to plant and animal communities found no where else in the world.
It is the barrier (or the protector) that has allowed the San Mateo MidCoast to retain its rural character - numerous attempts to build roads over the mountain have failed, and so heavier urban development moved to the bayside of the peninsula or much further south of the mountain.
Satellite images here and the other Montara Mountain pages are from USGS data presented on the Multiresolution Seamless Image Database (MrSID) web site. It's lots of fun - check it out!