Cortaderia jubata :
Pampas Grass
Flowers: Pink - White - showy bloom of feathery head on tall stalk - first pink purple, maturing to gold-white.
Blooms: Late Summer - Fall.
Leaves: Up to 6 feet long, upright from base, bright green, hairy, sticky, sharply toothed and dangerous.
Fruit/Seeds: Fluffy and wind blown.
Location: Disturbed areas, road and trail cuts throughout the Mountain, as high as 900 ' elevation.
Status: Alien - Invasive - Critical Problem.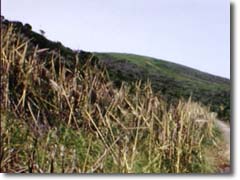 Cortaderia jubata
The "lovely" landscape of the late winter die back of Pampas Grass along San Pedro Mtn Road in McNee Ranch State Park.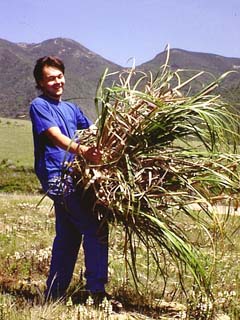 Further description & Comment: 5 - 8 feet tall and 4 - 5 feet wide, Pampas Grass is the most disruptive and invasive of the alien plant species on the San Mateo Coast. Originally planted in the 1950's for erosion control along Highway 1 (thanks, Caltrans!), it has since spread as far north as Sonoma and as far south as San Luis Obispo counties.
Pampas Grass is extremely opportunistic in colonizing disturbed areas, especially where road construction or erosion creates bare patches of earth. It can grow from a small fluffy seed to a 3 foot tall plant with blooms within a single season. and seems to have a livespan of near a decade. The extremely sharp leaves act as barriers to animal movement - they have been known to cut the hide of deer trying to walk through them.
Pampas Grass is one of the four most bothersome invasive plant species on the San Mateo Coast. The other three are French Broom, Poison Hemlock, and Cape Ivy. All four have the tendency to take over disturbed areas, create monocultures, crowd out native plants, and destroy natural habitat.
Left: Chris Larsen, a volunteer with the Montara Mountain Habitat Restoration Project, demonstrates the best thing to do with Pampas Grass on Montara Mountain: Remove it!