Erigeron glaucus:
Seaside Daisy
Flowers: Broad, Pale Pink to Lilac with yellow centers, many petals, 1 - 1.5 inches across. Stems lightly haired.
Blooms: April - July
Leaves: Thick and spatula shaped.
Fruit/Seeds: ??
Location: Bluff trails on oceanside.
Status: Native - Common.
Further description & Comment: 6 - 12 inches tall, low spreading colonies along trails and in open areas - often growing with other Spring Asteraceae.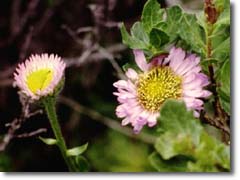 Erigeron glaucus
640x480 JPEG - 64K
Seaside Daisies poking up through Coyote bush. Note the hairy stems and the combination Ray-Disk Flowers
A patch of Erigeron glaucus along the trail by Grey Whale Cove.
Photo by Barbara & Bill VanderWerf - 480x360 JPEG - 60K
A good closeup showing the leaf structure.
Photo by Barbara & Bill VanderWerf - 320x480 JPEG - 44K