Artemesia californica:
Coast Sage Brush
(Coastal Sage)
Flowers: Whiteish-Yellow and small; in dense clusters along ends of stems.
Blooms: August - October.
Leaves: Silvery-gray, finely divided and thread-like with classic sage fragrance - like Thanksgiving Turkey seasoning.
Fruit/Seeds: Small, Gold to nut brown to black at former flower bases, Oct - Dec.
Location: Everywhere on the mountain, but more common nearer the ocean.
Status: Native - Common.
Further description & Comment: 2 -4 feet tall, evergreen. One of the signature plants of Coastal Scrub & Chaparral, along with Poison Oak, Coyote Bush, Yellow Bush Lupine and Sticky Monkey Flower. Although not the same as culinary sage, the leaves, fresh or dried, make excellent seasoning.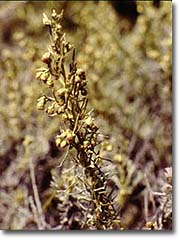 Artemesia californica
480x640 JPEG - 56K
A mature plant begins to set seed in the late Summer in McNee Ranch State Park.