Lupinus arboreus:
Yellow Bush Lupine
Flowers: Yellow, pea-like, very fragrant; in large whorls along tall stems.
Blooms: April - Jul y
Leaves: Dark green to green-grey, 5 or more leaflets radiating out from centers.
Fruit/Seeds: Small, round and black -in pods - green fuzzy at first, turning brown and then gray-black after opening. See LupineSeeds.
Location: Everywhere on the mountain.
Status: Native - Common.
Further description & Comment: Variable in form, from low mattes to 5 ft tall bush, Evergreen. Along with Poison Oak, Coastal Sage, Coyote Bush and Sticky Monkey Flower, one of the signature plants of Montara Mountain.
Yellow bush is very easily grown from seed. Collect the seeds just as the pods are turning from green to black, and plant immediately. Older seeds may need to be soaked and scoured first.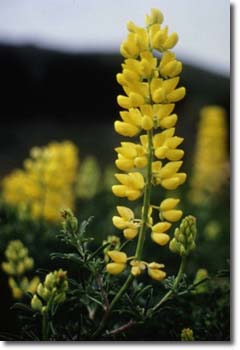 Lupinus arboreus
428x634 JPEG - 28K
This flower whorl is about 10 " long, and the leaves are of the darker green variation. Along Martini Creek.
Yellow Bush Lupine is seen here in a low growing form - often along eroding cliffs or wind-swept areas, it naturally adapts to it's microclimate. Note the yellow-green stems of the flower stalks. Lupinus eximus (Montara Mtn Blue Bush Lupine) usually has darker, reddish stems.
This handsome bush is currently still growing along Martini Creek on the south side of the mountain. It stands about 5 ft tall, with flower whorls up to 12 inches long. 634x442 JPEG - 52K