Cirsium quercetorum:
Brownie Thistle
Flowers: White, spiky, thistle-like, with center yellow to pink, just above base of plant on short, stout, spiky stem.
Blooms: April - June.
Leaves: Deeply lobed, spiked with thorns, up-pointing in basal at base of plant.
Fruit/Seeds: ??
Location: Dry, open grassy areas.
Status: Native - Common.
Further description & Comment: Low, ground hugging thistle - dried leaves in fall are those things that get stuck through your socks.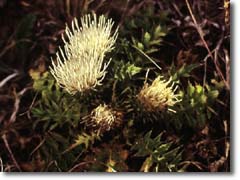 Cirsium quercetorum
500x375 JPEG - 48K
A Brownie Thistle begins its Spring bloom atop the remains of last year's growth. Along lower San Pedro Road in McNee Ranch State Park.