Grindelia stricta platyphylla:
Coastal Gum Plant
Flowers: Yellow, with many petals, up to 2" across; sticky white gum in saucer-ish, spiky buds.
Blooms: May - October.
Leaves: Oval, long and slightly toothed, leaf base clasped around at stem.
Fruit/Seeds: Unknown
Location: Lower elevations, trails, roads, open areas.
Status: Native - Common.
Further description & Comment: 4 - 6 inches tall; in low clustered mounds. Thick, fleshy, reddish stem. Often with many flower buds in different stages of development. Some books give the scientific name as Grindelia stricta ssp venulosa or Grindelia latifolia.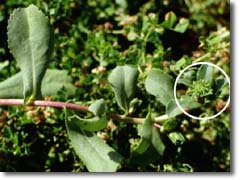 Grindelia stricta platyphylla
640x480 JPEG - 68K
Gum Plants usually grow outward - this one shows the stem clasping leaves. The spiny bud is in the circled area of the photo.